Tech Trends has been selected alongside the likes of Road to VR and TechCrunch as one of the Top 50 Virtual Reality Blogs by Feedspot. Others on the list include UploadVR, a site for which we also regularly contribute news and commentary.
"This is the most comprehensive list of Top 50 Virtual Reality Blogs on the Internet," says Feedspot Founder Anuj Agarwal, who sent us the news along with a virtual "high five" this morning.
#TechTrends was selected as one of the top 50 Virtual Reality Blogs on the Web
Click To Tweet
According to Feedspot the list was compiled based on criteria such as:
Google reputation and Google search ranking
Influence and popularity on Facebook, Twitter and other social media
Quality and consistency of posts
Feedspot's editorial team and expert review
Top 50 Virtual Reality Blogs & Websites on the Web https://t.co/HyjTsbe1Xa pic.twitter.com/eAoy7anMBC

— Feedspot Blog (@feedspotblog) January 21, 2017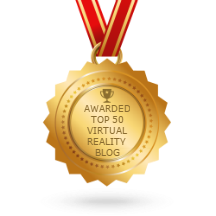 For companies looking to get into Immersive technologies such as VR/AR/MR/XR our Virtual Reality Consultancy services offer guidance and support on how best to incorporate these into your brand strategy.
Alice Bonasio is a VR Consultant and Tech Trends' Editor in Chief. She also regularly writes for Fast Company, Ars Technica, Quartz, Wired and others. Connect with her on LinkedIn and follow @alicebonasio on Twitter.